Ralph M. Pettersen's Propliner Information Exchange Website
While Propliners are a dying breed, there is still a lot of news to report from the United States and around the world. I've been photographing these aircraft since the late 1960's and writing about them since 1992. I've written 150+ articles for magazines such as Propliner, Air Classics, Warbirds International Airliners, Aeroplane Monthly and the AAHS Journal. I'm currently the Propliner Editor for Air Classics and Warbirds International Airport. This website is meant to complement my Constellation Survivors website and thus will not include any Constellation news. While I write a Propliner Round-Up article for Air Classics once or twice a year, my goal with the website is to provide Propliner news in a more timely manner. I hope you enjoy the website and find it useful.
PROPLINER NEWS
LATEST UPDATES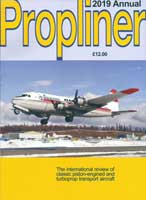 The 2019 edition of the Propliner Annual is due for publication on April 15th. As its title implies, Propliner Magazine is totally dedicated to Propliner aircraft and is a "must-have" for any aviation enthusiast and especially Propliner enthusiasts. Advance orders for this bumper 144-page publication can be placed at www.propliner.co.uk
DC-7B Encounters Problem on First Leg of Ferry Flight to Atlanta - July 16, 2019
Buffalo DC-3 Roadtrip – July 16, 2019
Rolling Boxcar Updates From Battle Mountain – July 16, 2019
Delta Flight Museum Makes It Offical – July 15, 2019
Air Tanker #23 Water Drop Video– July 14, 2019
Coolidge DC-7B Inches Closer to Ferry Flight – July 12, 2019
"Aztec Viking" Cockpit Centerpiece of Amazing Private Collection – July 11, 2019
New Hampshire DC-3 Needs Rescuing – July 10, 2019
Former Atlantic Airlines Electra Receving TLC in Buffalo's Red Deer Hangar – July 10, 2019
Historical Flight Foundation DC-7B Remains Grounded in Charlotte – July 9, 2019
Coolidge DC-7B Ready for Ferry Flight – July 9, 2019
Maryland's Mystery DC-4 Forward Fuselage - July 8, 2019
AMC Museum C-119 Restoration – July 8, 2019
Air Spray Electra Emergency Landing – July 8, 2019
AIRtec BT-67 Sold to Canadian Operator – July 7, 2019
Former SAS Convair Lingers on at Oslo's Gardermoen Airport – July 7, 2019
BAHF Needs Your Help – June 16, 2019
Tom Singfield Publishes Gatwick Propliner Book – June 15, 2019
Rolling Boxcar Crew Begins Disassembly of Battle Mountain C-119 – June 15, 2019
NEWS BY CATEGORY
PROPLINER PHOTOS & VIDEOS
I receive many interesting Propliner photos and videos from viewers and I've created this page to collect and share them with others. If you have some you'd like to share, please email them to me and I will post them.
LINKS
ARTICLES
AMC Museum C-119B Restoration – February 2019

Windswept and Lonely – January 2014 - by Del Mitchell

Breitling DC-3 Sightseeing Trip – August 2011 - by Rainer Spoddig

Swissair DC-4 Flying Adventure – July 1997 - by Rainer Spoddig

Your comments regarding this website would be very much appreciated. Please contact me about any errors you see and information you might have about a Propliner would also be very much appreciated.
Ralph M. Pettersen
----Created 10 February 2019------Updated 16 July 2019----